I love the word of God because it guides me closer to the WORD of God, my Savior Jesus Christ. Want to know something amazing? My little 6 1/2 year old girl LOVES her Savior too! She tries so hard to follow Him--
her relationship with her sister being her thorn in the flesh, I'd say
-- and is eagerly anticipating her baptism in a year and a half
(in our faith, children are not baptized until they turn 8-- an age of accountability and conscious choice)
. I wanted to do something for her to strengthen her developing relationship with Christ. Knowing how pivotal the scriptures have been in my continuing conversion, I thought it appropriate to encourage her in the same direction.
Our plan is to give her a nice, leather-bound copy of the scriptures when she turns 8 as a baptism present. And I thought, 'wouldn't it be wonderful if she
already knows
how to mark verses properly and is familiar with where each 'book' can be located and maybe even knows where her favorite scripture stories can be found?'...and then I stumbled upon
Latter-Day Homeschooling and Dana's post about a scripture study plan for young children
... and I was so very inspired and excited to do something like this, tailored just for Gwen!
(image from Latter-Day Homeschooling blog)
I hit the jackpot with Prepared LDS Family and
Valerie's post with accompanying printable study guide
(she was coincidentally ALSO inspired by Latter-Day Homeschooling!)
. Don't you love it when someone has already done the work for you? But I wanted to find a scripture study guide that utilized BOTH the illustrated scripture stories AND the actual scriptures, so I knew I'd need to tweak her program to Gwen's needs. Valerie kindly provided me with an Exell version of her study chart
(and updated her site with the editable version--- go check it out following the link above if you want to customize one of your own!)
so I could edit out the videos (which we don't have) and add in more scripture mastery verses (I only did ones I thought my almost 7-yr-old could understand and I added a page number to help her find it), and omitted a Sunday assigned reading for each week. I figured she can 'browse' once a week. I added lots of thought-provoking questions and I hope it encourages her to ponder rather than just skim.
This way Gwen gets a) the stories from the illustrated scriptures in a comprehensible format, b) learning where the stories can be located in the actual scriptures, c) becoming familiar with the language of scriptures, d) learning how to find verses in the scriptures, and e) practice marking verses.
We have been doing her study guide for over 3 weeks now and Gwen is loving it! She asks "mom, can I study my scriptures now?" all the time!
Some things we do to keep it fun:
colorful tabs to help her find the book she needs (a diy project of my own invention: you just use Post-It tabs, stick down on one side of the page, fold it over, and tape it down on the other side)

a personalized scripture journal with a picture of Christ

colored pencils for marking AND for drawing a picture about what she read each day.
stickers for scripture stories (I found these transparent ones that go IN the scriptures and are familiar Gospel Art Kit (GAK) images--free printable ones here at MeekMom,

or these opaque ones from Latter-Day Homeschooler that go in the scripture journal. New Testament

free here

and Book of Mormon

free here)

a pretty little bag I sewed for her using this adorable pattern (designed by a friend of mine--- so happy to say I know Ashley of Mommy by Day Crafter by Night personally!) so Gwen can take her scriptures to church. The bag is not huge: it fits her scriptures, her journal, and some colored pencils with room to spare, but this is not a 'take-all-your-toys-and-chapstick-to-primary-and-be-distracting' kind of a bag. I think it is perfect!!!
And, just in case anyone is curious, Caroline (age 4) also does scripture time. But she cannot read yet, so there are no journal prompts. She gets to have me read to her and then color pictures in a scripture stories binder we are building little by little.
And the exciting part is that I can tweak the study guide each year to add in things as she is ready for them: adding in my favorite verses, topical or seasonal study, attribute study, Articles of Faith, missionary study, etc. Another thing I'd like to add in the future would be 'definition' stickers that she can put in her scriptures to define new vocabulary she might not be familiar with. Another great resource (not free) that I'm considering investing in are scripture timelines that go on the wall with attachable figures (sounds like a great way to 'advent' the study of the text and keep it interactive for the kids, right?) available
here
.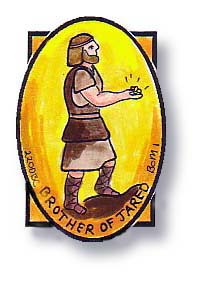 I would also like to do a scripture treasure hunt journey together as a family, using this
awesome idea
AND Trina's awesome
reading charts
:
I am excited to incorporate the AMAZING scripture journaling resources (not free, but still awesome!) over at
Red-Headed Hostess
. I think that will be part of her "scripture gift package" when she turns 8! There are great things there for teens too and I can hardly wait til she is ready for those!
(image from Red-Headed Hostess)
I just LOVE studying the scriptures!!! In fact, I've kind of got things tentatively planned out on when I will introduce each new element so that scripture study stays fun and fresh throughout the years! I get so excited about these kinds of teaching things!
Gwen is eager to share what she is learning and reminds me often, "I love reading my scriptures because then I feel closer to Jesus". What a good girl. What a good example to me too. Hope something here inspires you to get your little ones excited about reading the word of God!