I've compiled the 'perfect' Holy Week lessons/activities for children!
(Perfect for our family at these ages--- 'Perfect' is so fluid a term...)
I thought I would share my compilation with all of you!
I've mentioned before that I love teaching my children. Easter is one of those holidays that is tremendously secular unless YOU bring the Truth into your home. I'm passionate about doing this and for Easter the past couple years I've been gathering teaching ideas* to make this week truly remarkable for my family.
Here's how it works:
Every day I have a devotional time with the kids. We use
this layout of Jerusalem
(a 2-page spread) and move a little picture of Christ with sticky tack each day to show His path through the week. We sing songs, read a scripture, and discuss an application question for their lives.
We put coordinating pictures on the wall each day to build a 'timeline' of how Christ's final week was spent. Some of these pictures are Gospel Art pics, others are from a stash of religious art I've collected from Friend/Ensign magazines.
THEN we do the activities below to go along with the day! So here are the activities:
Saturday
(one week and one day before Easter)-
I made the one above by combining free illustrations and my own creations too.
Palm Sunday
: Triumphal Entry
Monday: Purging the temple (teach about temples, our bodies, and/or repentance/baptism)
Tuesday: Miracles and Teaching at the temple (parables and widow's mite)
Wednesday (actually occurred on Thursday)**: Last Supper and washing of disciples' feet
Passover Feast

Emmett wanted in on the unleavened bread!

(He snatched it right off Eric's plate and swung it around triumphantly before attacking it)




garlic and cumin rubbed roast lamb
eaten together the lamb and arugula (bitter herb) is truly spectacular!
**Note 2: The lessons follow each other in chronological order, but you'll notice that Wednesday's events actually occurred on Thursday. That is because the Gospels are very quiet about how Christ spent the Wednesday before Passover. And because Thursday has so many important lessons, I didn't want to gloss over anything. Splitting the subject matter into more than one day seemed appropriate. If you want to be sure you are teaching correct history, be sure to point this out to your children or feel free to put it all on Thursday.
Thursday: Garden of Gethsemane and Christ's arrest
Friday
: Peter's denial, trials, the Crucifixion and the burial
Caroline crushing walnuts
scriptures alongside recipe instructions--- my advice? NOT by the mixing bowl unless you like batter splatters on the Word of God!
Gwen beating the meringue--- she is becoming an actual helper in the kitchen these days! (as opposed to the little 'helpers' we love to have cooking with us but struggle to find a job for them--you know the kind I mean)
Saturday: no picture. Talk about the Spirit world and Jesus' teaching there. Review the Plan of Salvation. Talk about missionary work.
This year we are using gold foil Cadbury eggs with a tiny picture of Christ taped over the candy logo for each child and one BIG golden egg filled with candy and a picture of Christ--- lesson? to SHARE with others once you've found the Lord! Gwen found it this time and was an eager 'missionary' as she zealously distributed "Jesus candy" to the family. :) Found that giant golden egg at Target.
Sunday: Christ visiting Mary, the Empty Tomb, Christ appearing to Apostles
open the oven 'tomb' cookies (see Friday above)
Monday
after Easter:
serve honey and fish for dinner

(ha! I know this should be served on Sunday to reflect the post-Resurrection meal Christ shared with his apostles, but... Yeah right! We're having ginger-thyme pork loin roast on Easter Sunday!...so I am actually planning this tradition for the day AFTER Easter for our Easter review)
The evenings of Wed-Sunday is when we open the corresponding Resurrection Eggs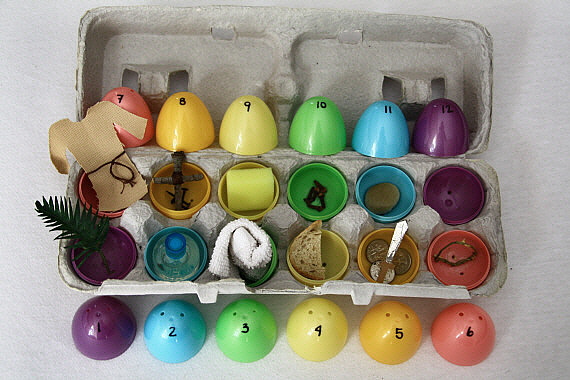 In the evenings we also watch the
Bible Videos
that correspond to that day's lesson and give the kids a chance to share with Daddy the things they have learned that day. This way they learn from teaching AND he gets to participate in their testimony-building experiences even though he's gone when we do the learning activities.
If you are interested, I have a printable that lists the days/activities on one 8x11 sheet for easy preparation that I am happy to email to you. Just leave your address in the comments!
I hope you all enjoy Easter week as much as we do!!! Share your Holy Week traditions in the comments!