I am picky about jewelry, apparently. According to my dear hubby.
Perhaps that is why Eric hesitates to purchase any jewelry for me... since I am so vocal about styles I don't like. Well, Dear, this is for you. Some clarification:
I don't like
fake-looking, faceted, bling bling
beads
I don't like
little tiny seed beads
without other sized beads and
I don't like these awful
drapes
I think these
stones
are ridiculously too chunky:
I don't go for this
tribal spiky
look at all:
But I
DO
think
ethnic and cultural styles
are fun:
I think these
glass
beads are cheesy:
But I really like these
glass
beads:
But I think these
shells
are lovely
and
trendy: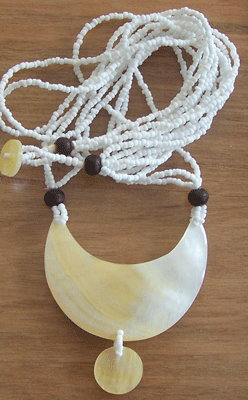 I think
classic pearls
are nice, but not my personality:
But I love these
floating pearls
(or
any
floating necklace, actually) as well as the non-spherical shapes and not white colors, so much more interesting:
I am
extremely
picky about
diamonds
, perhaps because they are so "bling bling". (Good to know, since they are so expensive anyway. You're safer with another choice in necklace. I won't think you are cheap, I promise.)
This pendant has all the no-no's for me: color, a cheesy heart shape, and a boring pendant chain.
Put it together and what have you got?
A lovely combo with natural colors and variety of textures in chunky layers with a vibrant pendant-- neither too gaudy or too same-o same-o.

Something like this or any of the above "liked" selections, Dear. Any questions?



As for the rest of you... I'm curious...
do you agree with my selections, or would you prefer some of the 'dislikes' over the 'likes'?